[The update is I change many things, reemplace the directional sci fi thrusters to war ion thrusters, the weapons using the war chaingun and the railgun (to get close to halo 4 original weapons), reemplace some blocks with an actual new form blocks, so this is a version that can rotate the rear wings like the halo 5 guardians looks like in warzone]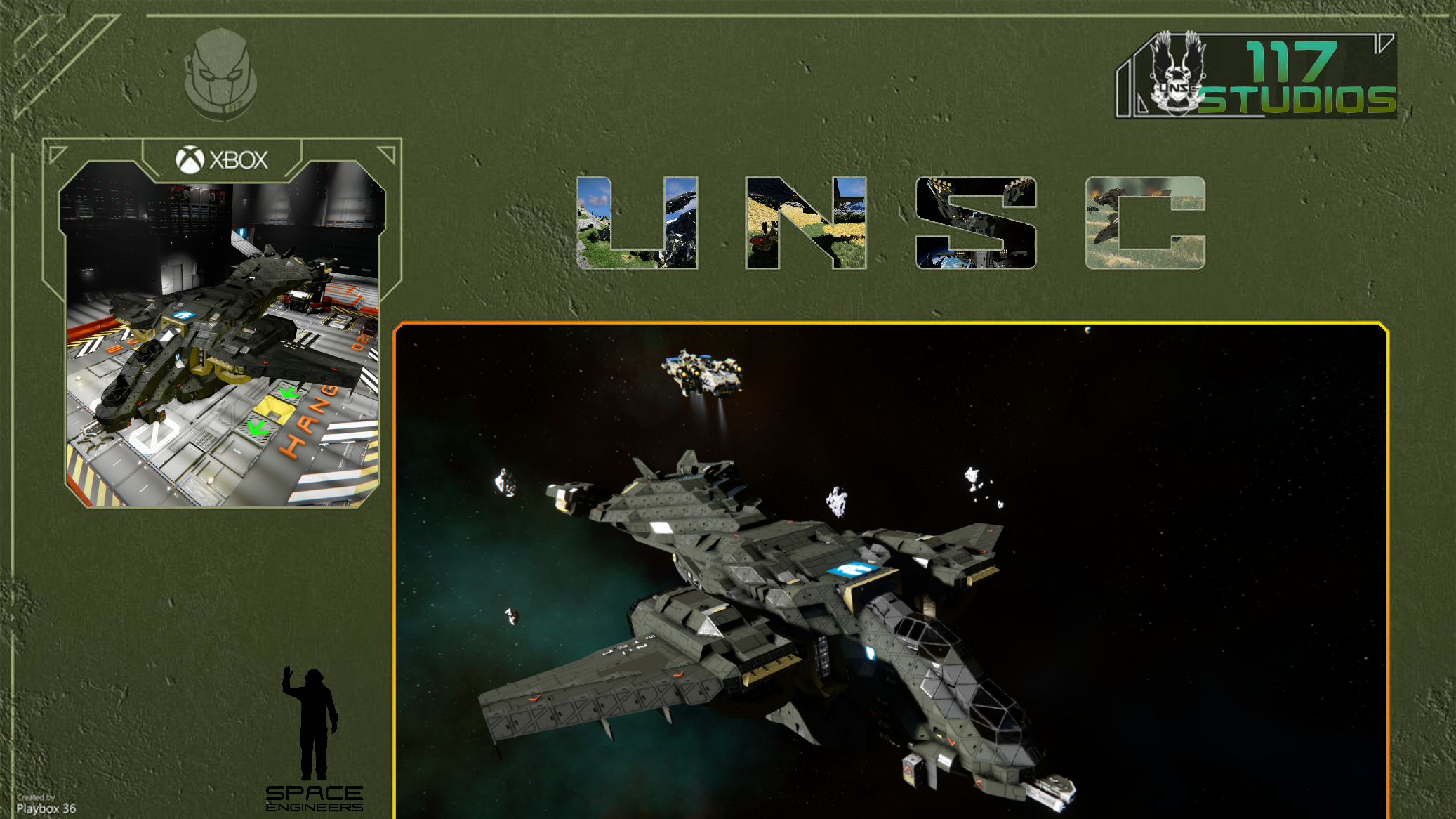 This ship is original made to PrimoSuperT
The ship was remodificade of the previous pelican, get now survival and so replica good as I can, before you spawn, you need to activate the super grid
This ship if got any error or someting, let me know to fix it and get update it

Story
Dropship 79 Heavy - Troop Carrier
[Source: Halo 4, Halo 5]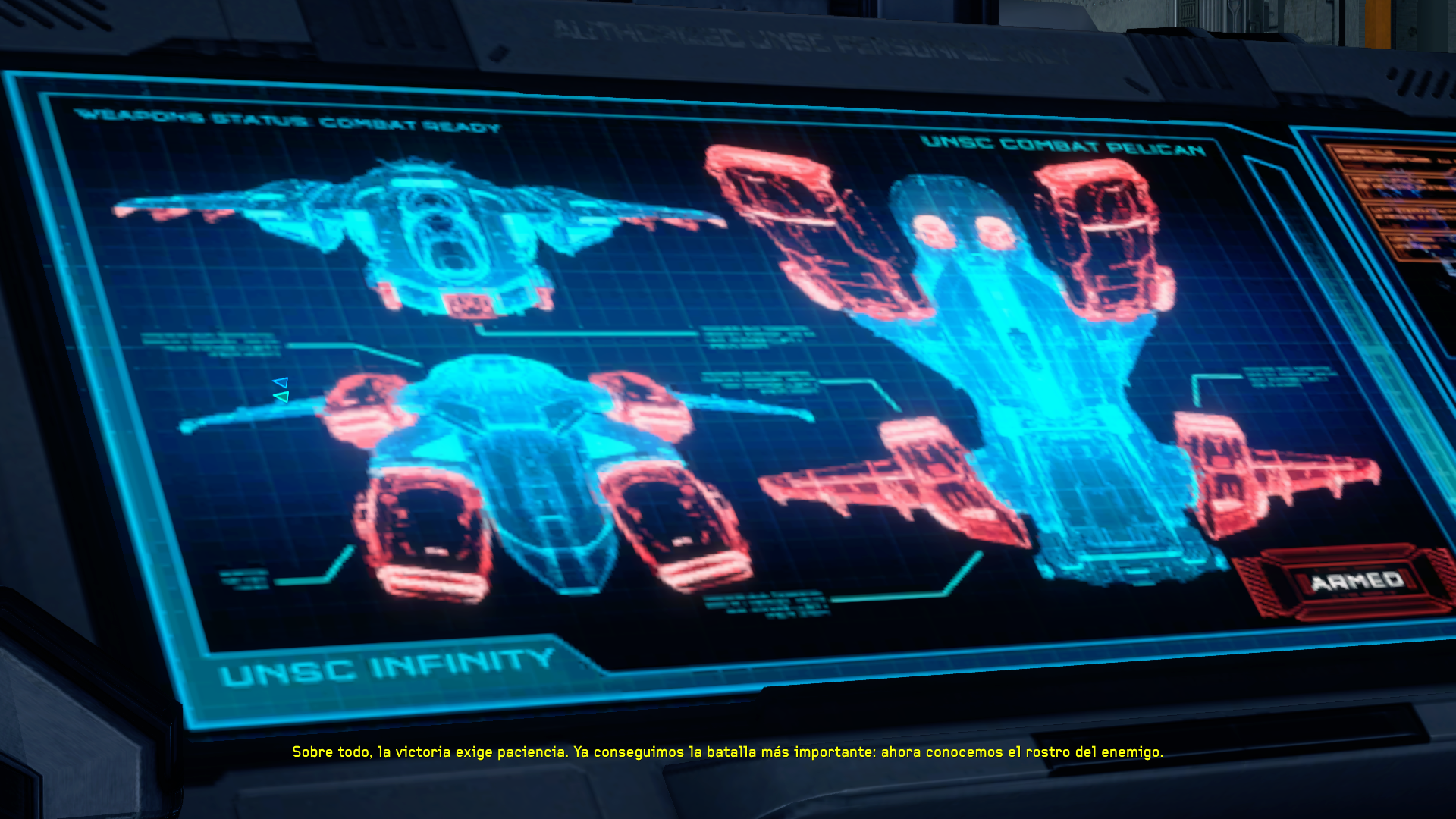 Beginning in 2557, the D79 was starting to replace the older D77-TC Pelicans.
Papa Foxtrot 766
A trio of Pelicans during the First Battle of Requiem.
Many Pelicans were used during the First Battle of Requiem. One Pelican, Pelican 096, managed to recover John-117 following the New Phoenix Incident. Marines were also transported into New Phoenix by Pelicans.
Other operations featuring the Pelican were the Battle of Kamchatka, the Raid on UNSC Argent Moon, and at the Battle of Sunaion.
Numerous Pelicans were disabled during The Reclamation. One managed to transport John-117 and Jameson Locke to Sanghelios at the same time frame.
Soon after Blue Team's rescue, both Blue Team and Fireteam Osiris would board an abandoned D79-TC Pelican that had crashed on the Forerunner shield world of Genesis. They piloted the Pelican through a portal that led them to the planet of Sanghelios in order for the Spartans to meet up with the Thel 'Vadam and Dr. Catherine Halsey.
Story design
The D79H-TC differs quite extremely from its predecessor, the D77H-TCI. Overall, its design is more rounded and streamlined, moving away from the very angular design of the D77 series. The cockpit is no longer accessed through the troop bay, but rather through the windshield itself, which opens to allow pilots to board. This differs in Halo 5: Guardians, however, as both Blue Team and Fireteam Osiris use Pelicans that have direct access between the cockpit and passenger bay, similar to the D77H-TCi model of Pelican.
The troop bay has also undergone some changes, most notably its ramp, which is now considerably longer than its predecessor's was. The D79H-TC is still capable of transporting vehicles underslung in the same way as its predecessor, and it is implied that at least three D79s have enough lifting power between them to lift an M510 Mammoth.
Propulsion
The D79H-TC's engines differ from the D77 series in that the main thruster wings now only have rear-facing jets. Along the bottom of the hull are four directional thrusters which, along with the rear thrusters, control the D79's VTOL operations. In addition, the main hull has two further thrusters, one on either side, and the very rear of the craft has a pair, providing this version of the Pelican with far superior acceleration and speed than its D77 predecessors.
Armament
In an offensive capacity, the D79H-TC sports two nose-mounted 70mm autocannons capable of an extremely high rate of fire and accuracy over long ranges. Its cousin, the G79H-TC/MA Pelican, possesses considerably more offensive firepower, including a variant of the M8C Grindell/Galilean Nonlinear Weapon.
Summary
The D79-TC Pelican, formally designated Dropship 79 Heavy - Troop Carrier, is a UNSC dropship designed by Misriah Armory. In service as early as 2526, the D79 had become the UNSC's standard dropship by 2557, supplanting the D77 and D77H models. A gunship variant (the G79H-TC/MA) is also produced.
Production information
> Manufacturer: Misriah Armory
> Product line: Pelican
> Model: Dropship 79-Heavy Troop Carrier
> Class: Troop Carrier Dropship/Transport
Dimensions
> Length: 31.0 meters (Actual: 30.7 meters )
> Width: 25.0 meters (Actual: 25.2 meters )
> Height: 10.5 meters (Actual: 10.7 meters )
Technical information
> Armament: GAU/53 70mm MBHRC autocannon
> Crew: 2
> Passengers: 10-14 passengers
Controls:
1)
Up: door rotor [reverse]
Left: ion thrusters rotor [reverse]
Right: tilting rear wings [activate now]
Down: landing gear [trigger now]
2)
Up: control lights [trigger now]
Left: principal beacon [on/off]
Right: gyroscopes [on/off]
Down: emergency batteries [on/off]
3)
Up: Speed ​​up [increase thust override]
Left: increase/decrease O2/H2 Production [on/off]
Right: upper thrusters [on/off]
Down: Speed up [decrease thust override]
4)
Up: upper thrusters [increase thust override]
Left: internal lights [on/off]
Right: search minerals F4-lk [on/off]
Down: upper thrusters [decrease thurst override]
5)
Up: ion rotor thrusters [increase thurst override]
Left: railgun [shoot once]
Right: gattling guns [control]
Down: ion rotor thrusters [decrease thurst override]
6)
Up: door [on/off ]
Left: thrusters control [on/off]
Right: control light (except the remote control)
Down: door [close / open]
7)
Up: primary motors [on/off]
Left:atmospheric thrusters [on/off]
Right: hydrogen tanks [reserves on/off]
Español (antes de aparecerlo, debes activar la super estructura)
Historia
Dropship 79 Heavy- Transportista de tropas
[Fuente: Halo 4, Halo 5]
A partir de 2557, el D79 estaba comenzando a reemplazar a los pelícanos D77-TC más antiguos. Papa Foxtrot 766 Un trío de pelícanos durante la Primera Batalla de Requiem. Muchos pelícanos fueron utilizados durante la Primera Batalla de Requiem. Un pelícano, Pelican 096, logró recuperar John-117 después del nuevo incidente de Phoenix. Los marines también fueron transportados a Nuevo Phoenix por pelícanos. Otras operaciones con el Pelican fueron la Batalla de Kamchatka, el Raid en UNSC Argent Moon y la Batalla de Sunaion. Numerosos pelícanos fueron deshabilitados durante The Reclamation. Uno logró transportar a John-117 y Jameson Locke a Sanghelios al mismo tiempo. Poco después del rescate del Equipo Azul, tanto el Equipo Azul como el Equipo de Bomberos Osiris abordarían un Pelícano D79-TC abandonado que se había estrellado en el mundo del escudo Forerunner de Génesis. Pilotaron el Pelican a través de un portal que los condujo al planeta de Sanghelios para que los espartanos se reunieran con Thel 'Vadam y la Dra. Catherine Halsey.
Diseño de Superestructura
El D79H-TC difiere bastante de su predecesor, el D77H-TCI . En general, su diseño es más redondeado y aerodinámico, alejándose del diseño muy angular de la serie D77. Ya no se accede a la cabina a través de la bahía de tropas, sino a través del parabrisas, que se abre para permitir que los pilotos aborden. Sin embargo, esto difiere en Halo 5: Guardians, ya que tanto Blue Team como Fireteam Osiris usan Pelicans que tienen acceso directo entre la cabina y la bahía de pasajeros, similar al modelo D77H-TCi de Pelican.
La bahía de tropas también ha sufrido algunos cambios, especialmente su rampa, que ahora es considerablemente más larga que la de su predecesora. El D79H-TC todavía es capaz de transportar vehículos suspendidos de la misma manera que su predecesor, y está implícito que al menos tres D79 tienen suficiente poder de elevación entre ellos para levantar un Mammoht M510
Propulsión
Los motores del D79H-TC difieren de la serie D77 en que las alas del propulsor principal ahora solo tienen jets orientados hacia atrás. En la parte inferior del casco hay cuatro propulsores direccionales que, junto con los propulsores traseros, controlan las operaciones VTOL del D79. Además, el casco principal tiene dos propulsores más, uno a cada lado, y la parte trasera de la nave tiene un par, proporcionando a esta versión del Pelican una aceleración y velocidad muy superiores a las de sus predecesores D77.
Armamento
En una capacidad ofensiva, el D79H-TC tiene dos cañones automáticos de 70 mm montados en la nariz capaces de una velocidad de disparo extremadamente alta y precisión en grandes distancias. Su primo, el pelican G79H-TC / MA , posee una potencia de fuego considerablemente más ofensiva, incluida una variante del arma no lineal M8C Grindell / Galilean .
Resumen
El D79-TC Pelican, designado oficialmente Dropship 79 Heavy - Troop Carrier, es un buque insignia de la UNSC diseñado por Misriah Armory. En servicio ya en 2526, el D79 se había convertido en el buque insignia estándar del UNSC en 2557, suplantando a los modelos D77 y D77H. También se produce una variante de cañonera (el G79H-TC / MA).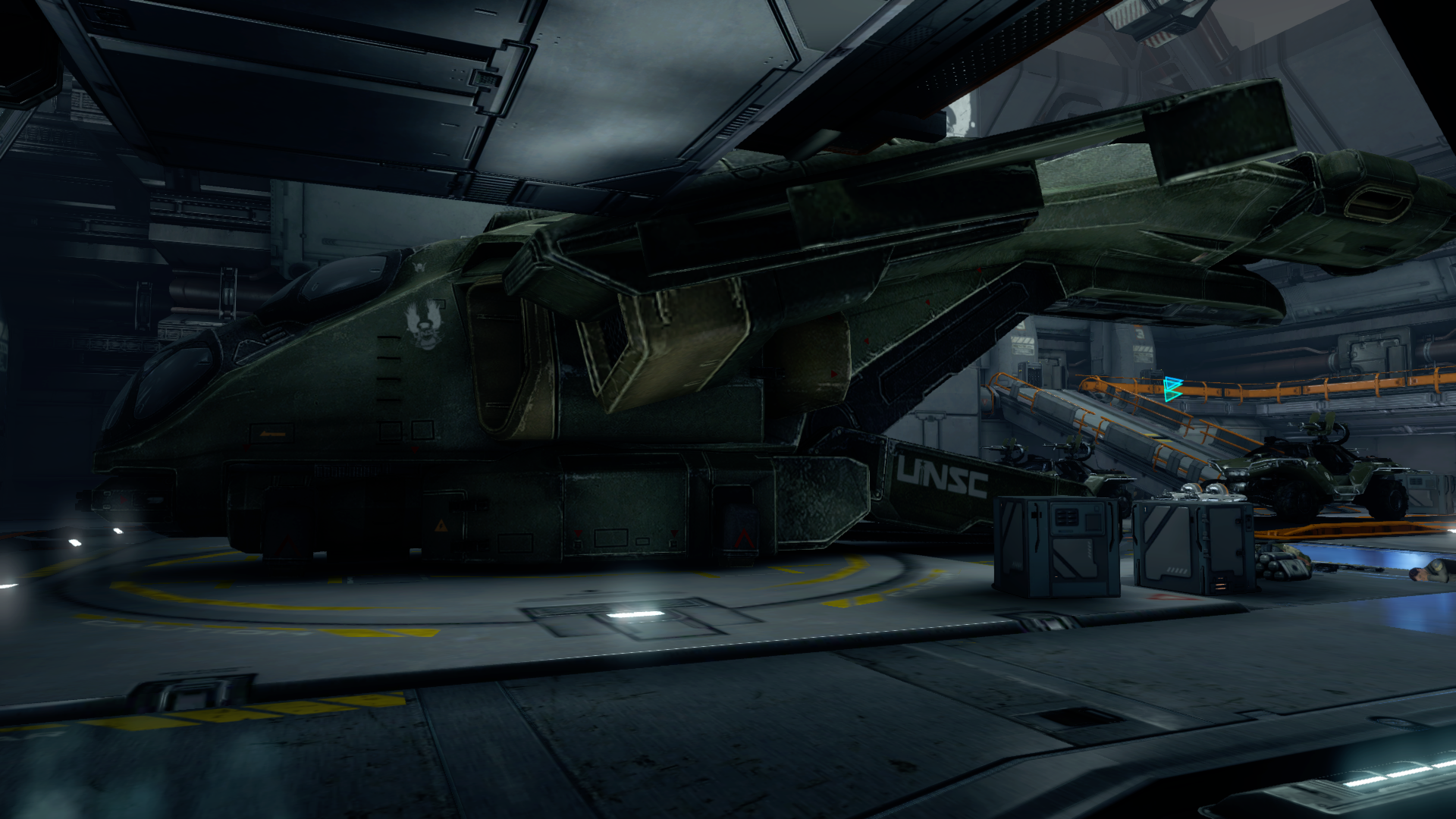 Información de producción
> Fabricante: Misriah Armory
> Línea de producto: Pelican
> Modelo: Dropship 79-Heavy Troop Carrier
> Clase: Transporte de tropas Dropship / Transport
Dimensiones
> Longitud: 31.0 metros (real: 30.7 metros)
> Ancho: 25.0 metros (real: 25.2 metros)
> Altura: 10,5 metros (real: 10,7 metros)
Información técnica
> Armamento: cañón automático GAU / 53 70mm MBHRC >
> Tripulación: 2
Pasajeros: 10-14 pasajeros
Barra de herramientas de ambos controles XBOX:
1)
Arriba: rotor de puerta [inverso]
Izquierda: rotor de propulsores de iones[inverso]
Derecha: inclinación de alas traseras [activar ahora]
Abajo: tren de aterrizaje [activar ahora]
2)
Arriba: luces de control [activar ahora]
Izquierda: antena [activar / desactivar]
Derecha: giroscopios [activar / desactivar]
Abajo: baterías de emergencia [recargar/ automático ]
3)
Arriba: acelerar velocidad [aumentar la anulación de empuje]
Izquierda: aumentar / disminuir la producción de O2 / H2 [activar / desactivar]
Derecha: propulsión de elevo [activar / desactivar]
Abajo: acelerar velocidad [disminuir la anulación de empuje]
4)
Arriba: propulsores superiores [aumentar la anulación de empuje]
Izquierda: luces internas [activar / desactivar]
Derecha: buscar minerales F4-lk [activar / desactivar]
Abajo: propulsores superiores [disminuir la anulación de propulsión]
5)
Arriba: propulsores de rotor de iones [aumentar la anulación de propulsión]
Izquierda: cañón de riel [disparar una vez]
Derecha: ametralladora [control]
Abajo: propulsores del rotor de iones [disminuir la anulación de empuje ]
6)
Arriba:puerta [encender / apagar]
Izquierda : control de propulsores [encender / apagar]
Derecha: faro de búsqueda [control] (excluyendo control remoto)
Abajo: puerta [abrir / cerrar]
7)
Arriba: motores principales [on/off]
Izquierda: propulsores atmosféricos [on/off]
Derecha: tanques de hidrógeno [reservas on/off]